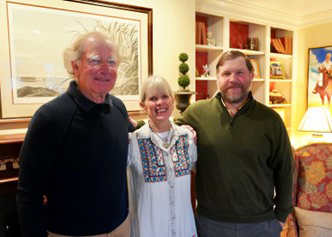 There is an adage about lightning never striking the same place twice, but what about luck? A change of plans brought Stuart Flanagan to St. Christopher's and another kept him at school for ten years.  The result was a lifetime of friendships gained, memories made, and a scholarship to give boys a St. Christopher's education.
 
Upon graduation from Washington & Lee University, Stuart moved to Richmond. There was a tremendous shortage of math and science teachers at the time, and he accepted an opportunity to teach at an area high school for a year, which he enjoyed.  He decided he wanted a change, a school in which the curriculum demanded more rigor.
 
He called then-Headmaster, Dr. Bugg, to inquire about a teaching position. In fact, Dr. Bugg did have an opening in the Upper School. A one-year temporary appointment was available, and Stuart readily accepted the job.  As luck would have it, the tenured faculty member never returned, and Stuart continued teaching at St. Christopher's for a decade and became chair of the mathematics department.
 
When he began his teaching career under the pines, Stuart was only a few years older than some of his students. He ate all his meals with the boarders, developing lasting relationships with many men he still sees and speaks with today. He is nostalgic about his time under the pines, and remembers those days fondly, "I was happy at St. Christopher's and feel that I was able to have a lasting impression on the education and the lives of the boys while I was there."
 
Although Stuart left St. Christopher's in 1968, he is making an impact today with The Sterling Stuart Flanagan Scholarship. Stuart established his endowed scholarship in 2008 with charitable rollover gifts from his IRA and increased the fund with the creation of a charitable gift annuity.  Stuart says. "St. Christopher's is a special place to me for the friendships I made and the teaching experience I gained. I established this scholarship to help boys who possess talent, curiosity, and eagerness to learn, but need financial assistance to attend.  For me, creating this scholarship is like giving money to family.  I am helping give boys a St. Christopher's education and the opportunity to be part of a wonderful extended family for life." 
 
Family is exactly how alumni describe their relationship with Stuart. When Tommy Meehan '68, learned of the endowed scholarship, he initiated a gift from a charitable foundation he was advising to the fund. "Stuart is one of my closest friends, Tommy says. I have known him for more than 60 years and happy to support anything he wants to do. His wish to expand the St. Christopher's experience to more boys is a great cause and something I am proud to be part of." We are thankful for Stuart's generosity and his kindness to help attract and enroll boys who will be terrific members of the St. Christopher's family.