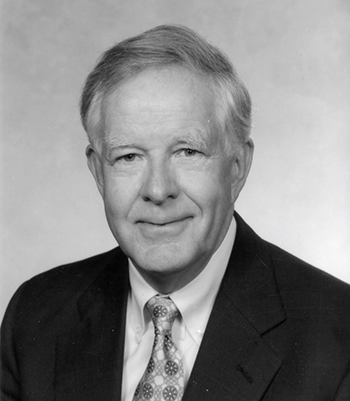 There is an expression that the first step of any new journey is the most difficult. For E. Armistead Talman '50, there was one beginning that overshadowed all others – starting seventh grade at St. Christopher's School. He considered this academic, not to mention, logistic, transition from the Fan by bus and trolley to St. Christopher's, to be even more demanding than college, medical school, or surgical residency. This is not to say Armistead struggled as a Saint. Rather, he thrived as a student under the pines and credits the school not only for his passion for lifelong learning, but also for the implicit lessons of loyalty, truth, and honor modeled by the faculty, which remained his constant guiding principles throughout life. 
As an alumnus, Armistead maintained a close affiliation with the school, serving as a member of the Board of Governors and Class Agent, and regularly attended events, meetings, and sports competitions on campus. He was passionate about his alma mater, always asking questions about academic rigor, athletics, and college acceptances.  Armistead readily shared the latest school news with fellow alumni, including any mention of St. Christopher's in the Times-Dispatch. He was proud of the school's continued emphasis on educating the head and the heart of each boy, and thankful that the values upheld during his time as a student - instilling characteristics such as personal integrity, leadership, and service to others - are still important today. Armistead was delighted when he learned his grandson, Talman '21, had chosen to attend St. Christopher's.  He was sure to never miss a soccer game or tennis match, always present in the bleachers cheering on Talman to victory.  He even attended Talman's last soccer game two weeks before he passed away. Talman's younger brother, Wit '33, is also a member of the Saints family.
During Armistead's lifetime he supported many initiatives at St. Christopher's. He was a loyal donor to the Annual Fund and made gifts to the Luck Leadership Center and the Arts Center. When the IRA charitable rollover provision was first introduced, Armistead took advantage of the opportunity to support the Class of 1950 Scholarship by directing funds from his retirement account directly to the school rather than take the required minimum distribution. He also wanted to extend his support into the future with a bequest to the school.  By simply adding a sentence in his will, his wish to support education at St. Christopher's will be realized for generations of Saints. It is fitting that his ultimate gift will help many young men also take their first step at St. Christopher's School.